OUR QUICK E-MAIL ~ Open 24 hours:
can DOT reservations @ gmail DOT com
>>> Check-out our easy voicemail phone services listed below <<<
Please use our simple online reservation form listed below for fast efficient services to book your room for local lodgings.
For your lodging bookings and any of the "Circuit Parties" in Montreal ~ After submitting your written request, you will be sent and provided with an E-mail address to use to make inquires about your detailed reservation requests. Our very qualified and friendly local agents are available to answer questions about your reservations almost 24hrs a day, 7 days a week and 365 days a year (including most holidays). If you have a question about a reservation that you have made with us recently or in the past, please E-mail our travel specialists directly at our main office in Montreal (QC) Canada. Thank you !
Our Other Domain Web Links:
http://www.can-reservations.ca/ ¨
http://www.can-reservations.info/ ¨
http://www.can-reservations.com/ ¨

To help you get the most out of your search for a great reservation with our optimization services, make sure to use the helpful walk-through tutorial text listed below. This is our help section of this websites optimization tool for all searches. Once it is submitted, a booking rep will contact you at first by Email within 72 hours to help you with your query, that is if any locations are available as you have requested. If you require our urgent assistance, please mention that in the subject line of your initial Email message to our free service network. We thank you at this time and hope your visit will be enjoyable too !
Even easier ~ use our E-mail forwarding form below

(for "Circuit Parties", use the address below)
*To Reserve See Notes Below.
For more details or for our 2 special contact
addresses and we try to reply as soon as
possible, to all of your requests okay.
We invite you to visit our local all-welcome gay community service website for Montréal and do take special note that the click ads on all the pages are not ours at all. Take a look at them, then return to this 100% gay community supported website for your personalized booking service. Each of our locations we reserve with have been selected for your gay travel needs while you visit our great city too.

Thanks from your reps at C.A.N. Services !
Please note that any constructive criticism, suggestions and bug reports about this site will be noted plus appreciatd. We thank you for your message and while we can't promise everyone a personal reply, please be assured we'll keep your feedback in mind, as we work to improve our simple website for those invloved.
OUR BEST WISHES FOR A SAFE TRIP TO OUR CITY...

SPECIAL MESSAGE:
Thank you for your recent E-mail request for information. Please advise us where you've seen our service, as we need to make regular updates to all of the listings on the internet or in print. The personal information you are providing will be used only to reply to your query and for no other reason. If you wish to obtain more information about our services offered to you reply as we have requested of you. Thank you for your understanding.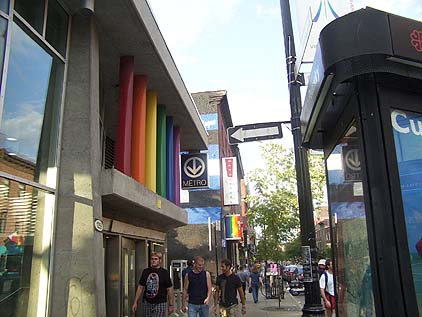 Our Postmail Service*:

*(Include 3 IRC's or 5USD for postage)
Send with your own details to:
C.A.N. Services - attn: G-Info.
c/o PO Box 61,525 station RPO,
Montréal (QC) Canada H1L-6R1
~•~ WE ACCEPT PAYPAL DEPOSITS ~•~
Request Info When Arranging Your Booking
Reservations and "Special Events":
can DOT reservations @ gmail DOT com
Our E-mail with Auto Reply service:
can DOT reservations @ gmail DOT com
CITY TOURS (on foot, bike or your car)
can DOT reservations @ gmail DOT com
Our phone number is sent to you upon
receipt of the details we request below.
Also a representative will contact you
shortly to assist you with your query.

Return to the C.A.N. home page ==>

~ Montreal's info Website for GAYroute.ca ™ ~
• Click here for the recent updated details •
We appreciate your feedback.
Your feedback helps us improve the quality of our C.A.N. Services home and other pages. A human being does review all submissions, though we cannot respond due to volume, your messages are appreciated at all times. We collect personal info on this website and C.A.N. Services shall own and may use, without attribution or compensation, any feedback provided here. To learn more on how we use the info you provide to us, review the other pages and especially the About Page on our site. We look forward to reading your message you have sent to us. Thank you for your feedback and your time today.
* ::: Booking Your Room Reservation Right Now :::
Please include in your first E-mail message your Name, Phone / Cell number, exact In-Out dates with the Amount of Days, number of Persons in the party and an idea of your Budget (CAN$) per night per room, plus any other Details our office needs to know. Please be advised that if we can find what you need in Canadian dollars, local High Season rates might exist at any time, which is so important to note for "Circuit Parties" and special events or festivals all Year-Round.
URGENT BOOKINGS: can DOT reservations @ gmail DOT com
Our Voice-Mail Phone Service (year-round 24 H) 5 1 4 - 3 5 4 - 2 9 9 9 Messages.
An expert rep from our customer relations team will respond to

your inquiry ASAP - also do note that during busy events, festivals &
concerts of all types of genre, we request your patience for our free services.
NOTE: That possibly these direct links might not work properly, if your on a translated page. Just undo the special feature you initally created from our home page when you entered the website. Then return here after to complete the task of contacting us right here from our contact form on our website.

Thank you for your understanding & interest !

Our Reservation Conditions:
To request availabilities, please E-mail our service the dates you are interested in for your visit.

Upon receipt of your request we will get in-touch with you and (the availability permitting) initiate your booking as soon as possible. We will then send out your reservation details, so please be ready and read it carefully. By making a booking, you implicitly acknowledge that you have browsed through our official website, in particular, that you will have read the property description we have sent to you and their rental agreement, plus that you agree with all the latter's provisions. You will be asked to sign it upon arrival and be issued their payment statement for your rental location at the location mentioned in our reply to you in our E-mail reservation message.
Most places accept payments in cash and also major Credit Card payments through an onsite inhouse secure connection to their bank, in either Canadian or US dollars (vist a local bank for other currency funds).
Rates shown at all times or elsewhere are indicative and are subject to change without prior notice depending on availability, the season and exchange rates plus taxes are extra costs. Inquire about rates when checking availability.
A reservation security deposit is payable upon any reservation taken and is not refundable. We advise you to purchase a cancellation insurance policy with your own local travel agent before you contact our reservation service.

The rental balance is payable prior to your arrival date and refunded only if the cancellation occurs at least six (6) weeks prior to the exact arrival date plus is paid with the consent of the property owners.
Failure to settle the reservations balance upon arrival might and will possibly cancel any booking. All sums paid to the owners will be acceptable and appreciated by our reservation service, plus if we previosly agreed upon this method.
Sorry pets are not allowed and no smoking on property, unless otherwise permitted by your accommodation owners.
For Availabilites, Bookings and Any Questions:
To request availabilities, for booking or for any information regarding avilabilites or any other questions, please E-mail us at this address ~ can DOT reservations @ gmail DOT com with request details enclosed in your first E-mail message. Thank you !

We will make every effort to respond to your request in a timely manner. If you have immediate needs, please contact our customer service representative team staff at the form provided above and place URGENT at the beginning of your message.

NOTICE: You agree to defend, indemnify and hold us harmless from any claim, demand, action, damage, loss, cost or expense, including without limitation, reasonable attorneys' fees, incurred in connection with any suit or proceeding brought against us arising out of your use of any of our services or alleging facts or circumstances that could constitute a breach of any provision of these terms by you in any way. If you are obligated to indemnify us, we will have the right, in our sole and unfettered discretion, to control any action or proceeding and determine whether we wish to settle it with no compensation to you, and if so, on whatever terms we see fit to offer to you at anytime that we see fit at all times with no conditions either.


Good Day / Bonjour / Bueno Dias:
For immediate information about reservations, please refer to our "Main Office E-mail" at the top of the Contact Page. We endeavour to address all the frequently asked questions received; however due to the volume of E-mails sent to us daily, we are unable to respond to each one individually. So please have some patience for our reply to your requests and if you need to book a location, we offer you our services as fast as humanly possible.

Nevertheless, your feedback is important to us too. All of the E-mails are read by a human-being and your comments, complaints and concerns are added to our monthly report for changes, if needed. Each month, the report is distributed to our network of locations and travel services, to assure your receiving the best possible services, plus that we can offer you while your on a visit to our fine city of Montréal.
Thank you and have a great gay vacation in Canada !!!
PS: If you are the original creator of material featured on this website and want it removed, please contact us immediately !

Have A Look At This Super Site: TinyUrl.com
Try This Great Site: FreeWebSubmission.com


NOTICE: We thank you for submitting your constructive criticism, any suggestion and bug reports about this site, that will be noted or filed for future review. Your report will be investigated and your diligence in reporting this problem is much appreciated. We regularly do collect info and details that is sent to our services attention. Also note that any and all of the C.A.N. Services businesses shall own and may use, without attribution or compensation, any feedback provided that was sent to our service. Any messages containing offensive or hateful comments will not be answered and we reserve the right to send all threatening messages to the proper authorities, if need be. However if your very serious in your message, you can reach us in any manner and we will answer you as quickly as possible. You're helping produce a better online experience for everyone that will visit our gay community website.